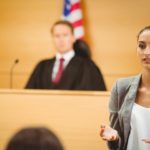 A work injury can prevent an employee from returning to work or keep them from performing the everyday tasks that were once their job. Many feel that they do not want to file a claim as it will result in poor standing with their current or future employer. An attorney with work comp law experience in St. Louis focuses on workers compensation, benefits and claims for job related illnesses, injury, and job compensation. If you want to apply for this compensation, need help, have an issue or a dispute, or feel that you should be getting more compensation, then an attorney can help you. Importantly, a work comp attorney can also help you work out a contract so that you get the compensation you deserve, rather than what the company thinks is the cheapest that they can give you.

St. Louis Work Comp Attorney
Law Office of James M. Hoffmann
Attorney James Hoffmann concentrates his practice in workers compensation and personal injury. He has a successful record of trying cases, mediating cases, arbitrating cases and obtaining settlements for injured workers, victims of car accidents, truck accidents, and other similar personal injury cases
Wolfgram Law
Our lawyers have over 25 years of combined practice in the area of personal injury law including, auto, trucking and airline accidents, medical malpractice, workers' compensation and drug related injuries, just to name a few. Every member of our team upholds the highest principles of the legal profession in placing the client first. The core values of our firm are rooted in a willingness to accept the challenges and responsibilities inherent in complex litigation
Applying for Compensations or Benefits: If you want to apply for workers comp after a work related injury, then hiring an attorney is wise. They be able to help you out with filing the right paperwork. A work comp lawyer will know what you should receive based on your job. The can examine the insurance, the extent of your injury or illness, and other details. STL work comp attorneys will also fill out paperwork for the best effect, ensure that you have all of your paperwork, and ensure that everything is set up. This gives you the maximum chance of getting your compensation. Most employers will be more strict with following proper legal routes and ensuring that your compensation matches up with the law. Therefore, hiring a St. Louis attorney is also a good way to go if you want to ensure that everything runs smoothly. Perhaps your employer has a history of offering too little compensation or disputing work comp claims.
Work Compensation Disputes: Your employer or their insurance company may dispute your claim. Hire a St. Louis lawyer to help fight the dispute. Employers can dispute claims, even valid ones, for no reason other than that they don't necessarily want to pay. Make sure that you discuss your situation, share all of the documentation, and be honest with the attorney. This helps you fight the dispute and renegotiate the compensation so that you get the best possible outcome. While you might not win every time, they can do their best to ensure that you do, and greatly increase your chances over disputing it on your own.
Appealing Denied Claims: Lack of Compensation Insurance – If your employer does not have Workers Comp Insurance, then you may want to seek out an attorney to make sure that they do pay. Because most companies are required to have workers compensation insurance, this should not usually be a problem, but in case not, an attorney can help to ensure that everything works out. Employers are less likely to dispute or deny a claim in the first place if there is an attorney involved, but if you haven't had one from the start, then now is a good time to get one.
STL Work Comp Attorney
Not Enough Compensation: If you've been awarded workers compensation and feel that you should be getting more, you can hire a work comp attorney to help you renegotiate the terms in order to increase the compensation. Because most employers, and workers compensation insurance companies, will automatically attempt to offer the absolute lowest amount available, you can dispute the rate.. This sort of dispute is difficult to win on your own, because you first have to prove that you deserve more compensation, and then have to go through legal proceedings and renegotiate the compensation. An attorney is an easier way to ensure that you actually get the dispute open so that you can get more compensation.
Accusations of Fraud: If you've been accused of workers compensation fraud then you can choose to consult with an attorney whether or not you're actually guilty. The St. Louis attorney will review your case and then help you to defend yourself, or get the best outcome. Because this sort of thing can be tricky, it is important to have an attorney to properly present your case.
Work Comp Injury
If you have suffered a personal injury, have a work caused illness, or otherwise need workers compensation, then a lawyer is the easiest way to ensure that you get your compensation, get the amount you deserve, and as quickly as possible. If you're not sure, you can usually ask for a consultation, or discuss your needs and expectations with an attorney before officially hiring them for your case.