Have you been injured at while on the job and need to contact a St Louis attorney concentrating on Worker's Compensation law?
Contact the Law Office of James Hoffmann today!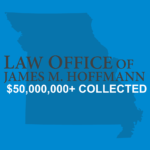 James M. Hoffmann concentrates his practice in workers compensation and personal injury. He has a successful record of trying cases, mediating cases, arbitrating cases and obtaining settlements for injured workers, victims of car accidents, truck accidents, and other similar personal injury cases.James graduated from St. Louis University's John Cook School of Business and then attended the St. Louis University School of Law. Practicing solely in the area of Missouri personal injury law, James has represented injured victims from across the entire state of Missouri and has traveled to numerous Missouri counties deposing hundreds of doctors and other experts retained on behalf of his clients.
In addition to St Louis Attorney James Hoffmann's home page, he also has a site dedicated specifically for truck accidents in St Louis.
Law Office of James M. Hoffmann
2001 S. Hanley Rd.   Suite: 325
St Louis, MO 63144
314-361-4300