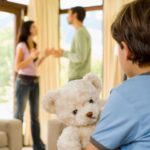 St. Louis divorce attorneys deal with legal issues such as divorce, child custody, child support, separation and more. If your legal needs involve these or other family related issues, contact a family law attorney. Whether you're having family issues and are considering pursuing the case in the court of law, are in the middle of family related court battle, or otherwise have family issues that have gone to court, then a family attorney may be your best option.
St. Louis Family – Divorce Attorneys
| | | |
| --- | --- | --- |
| STL Family – Divorce Attorneys | Phone Number | Location |
| Myers Law, LLC | 314-863-5353 | Clayton |
| Avioli Law | 314-276-0699 | Webster Groves |
If you or a family member is looking at a potential divorce then it is important to get your plans, your possessions, paperwork, and your intentions in order. A divorce attorney is an ideal way to go if you are uncertain of how to handle the proceedings, are facing a custody battle, or are unsure of how to divide possessions and need a mediator. While very few divorces are easy, a good attorney can help to ensure that everything runs as smoothly as possible. They can also present your case to the court in the instance of a lawsuit or one party attempting to take property or money that is not theirs. There are many different types of issues that family attorneys can help you with. Here are a few of the most common ones.
Child Support : If you are not getting child support for children but the other parent is not living with you, then you can pursue a case to get monetary living aid from him for the children. A good lawyer can also help you to win a case for a specific amount of child support, although that amount is typically decided by the court. Child support cases are usually easily settled when you bring them to court, especially if the parent has already been ordered to pay but is not, but having a lawyer still helps to ensure that the case goes through as quickly as possible.
Child Custody: Child custody is an important legal matter and if you're not able to settle it out of court, then you may need a family attorney to help. A family attorney can put together a case in your favor to convince the judge, and if necessary, the jury, that you deserve custody, or advise you on the best way to go on custody splits. This also includes advice and help with fathers rights, even if custody is granted to the mother. A good family attorney can help make sure that the custody is equitable, or as fair as possible according to the circumstances.
Divorce: If you are getting a divorce then a St. Louis family lawyer can work to make the process as smooth as possible, advise you on the legal matters, manage the paperwork, and help you reach an equitable split that is fair for both parties. Some family lawyers specialize in divorce, so you may want to hire a divorce attorney rather than a family attorney, but many family attorneys cover both, so consider asking and then go from there.
Divorce Attorney St. Louis
Adoption: While family attorneys often help with unpleasant family issues, they can also help with the adoption process including speeding up the adoption process, doing the paperwork, and, if necessary, putting together a case for you. Like divorce, adoption sometimes has it's own lawyers, but adoption attorneys are a specialized form of family attorney. An attorney is especially helpful if you have been denied adoption for unfair reasons. Find an adoption attorney in St. Louis
Family lawyers help with most family law related matters so if you have a court related issue with family members then a family lawyer is usually the best place to go. Some family lawyers specialize in specific types of family law, which is good if you want to ensure that the lawyer is an expert in their field, but any family lawyer can handle your case.
STL Divorce Attorney
Negotiation: The first and most important thing that a divorce attorney can help you with is negotiation, both with your spouse, his or her lawyer, and the judge. Negotiation is important for ensuring that both parties get a fair deal, especially if the proceedings are to be done in court. Good negotiation skills are part of any successful lawyers repertoire, and they can help you to get the best out of almost any situation, by making decisions with the other parties lawyer, helping to get you a better deal, and more.
Paperwork: Filling out paperwork is tricky, especially when it contains all of your information, property, and reasons for divorce. Having an attorney to fill paperwork out saves you time, but the most important part is that the paperwork is filed correctly.
Child Custody Issues: While not all divorce attorneys can help with child custody, most can. In fact, many divorce lawyers are also certified family law specialists, which allows them to help with getting custody, helping with multi-state or international custody, and helping with sole custody as needed. Ask your attorney if they are qualified to help with this sort of legal work before hiring them. Most can help negotiate standard custody issues, help present a case for custody, and help with custody related paperwork.
Separate Property Division: One thing that many families forget is that property purchased before a divorce remains the property of the original owner. If you want to press that property belongs to you, and make sure that it is divided properly, then an attorney can help you prove that it is yours, and that it was purchased before your marriage. Without this help, a home, vehicle, or other property that belongs to you might be given to the other party as part of the divorce proceedings on the ruling of the judge. With a lawyer, you can prove that it is yours, and keep it on your own.
Divorce Lawyer St. Louis
Debts: A divorce attorney helps with the negotiation of the division or settlement of shared debts, liens, and mortgages. They will help divide them fairly, suggest a solution to the debts, or use evidence to help allocate them to the party most able to pay.
Arbitration & Mediation: Many people decide todivide and settle property and affairs outside of a court. In this instance alawyer is important for arbitration and mediation. First, it is important to do everything legally and with a witness in case the other party changes their mind at a later date, you end up in court again, or a dispute arises later. A good attorney can arbitrate a property settlement outside of court. This ensures that you both leave the arrangement with a fair property settlement. Finally, they will take care of the paperwork for records and files in case of a problem later.
Filing for Divorce: A St. Louis divorce attorney can help you with every step of the divorce. This includes paperwork, filing, settling property, arranging custody if necessary, and finalizing. A STL divorce attorney is important for most cases to ensure that the divorce goes smoothly and that everyone gets a fair deal. This is especially true when only one party wants a divorce or in disputes regarding custody or property.
Divorce attorneys are extremely helpful, both for consultation and actual negotiation. While it is possible to file for divorce on your own, hiring an attorney ensures that everything goes smoothly, that any disputes are handled as quickly and fairly as possible, and that both parties get the best out of the situation.
St. Louis Family Law Support Groups
Kids In the Middle (314) 909-9922
Domestic Violence Hotline (314) 531-2003
St Louis Parent Education Classes
St. Louis County Parent Education Program (314) 615-8093
Jefferson County "Children First" (636) 296-6206
St. Charles County "Children's Workshop" 636) 332-5116
Madison County (618) 398-0900